Lino Brocka famously said: "life in the Philippines is cheap". These words seem to echo in Raya Martin's Smaller and Smaller Circles, an adaptation of the same-name novel written by F.H. Batacan. In the story, two Jesuit priests aid a bureau-wide investigation of a string of gruesome murders inflicted on young boys. The novel, beloved rightly by thousands after thousands of readers, opens with the discovery of a street child's lifeless body in Payatas, with only a band of young mangangalakals and a horrified elder rounding up as his entire audience. No mother is present to mourn for her child. And there, Brocka's words echo the loudest. Life is indeed cheap in this country.
I spoke recently with Ria Limjap, the producer and co-writer of the new film, and we discussed the film: how it came to fruition, how the film translates from the novel, and why Batacan's serial killer story, first published in 2000, is still (and perhaps more) relevant today than ever.
---
How did this film adaptation came to be? Care to share us the story?
Sure. Well, the project started was when I was working on the marketing campaign for Heneral Luna, which we were screening at the Literary Festival in Makati last year. I was in-between screenings when I found Smaller and Smaller Circles, and a few people from the literary scene had mentioned that there was this book coming out about two Jesuit priests, and a serial killer.
It was August last year when I read it, and immediately I thought: "Oh my God, this would be such a good film." The way Ichi [Felicia Batacan] wrote it was really cinematic. And then, of course, Raya [Martin] is a friend and a collaborator, and I told him about it and I found out that he had read it already, but the version he read was the shorter version from 2000, which was a novella published by U.P. Press. Moira Lang is co-writing the screenplay and co-producing the film, and it's such coincidence that she knows Ichi. They go way back, they're friends from the 90's. And Moira, after the novella was published, told Ichi that they should adapt it into a film. And you know, me, I'm a reader. I read a lot and I fall in love with the characters. And so I told them "let's do it…"
…And we did, we got in touch with the publishers, and we sent proposals to our executive producers, the same guys who did Heneral Luna–Mr. Fernando Ortigas and Mr. E.A. Rocha–and they were very enthusiastic and supportive.
That's how we got the project going.

Ria Limjap and F.H. Batacan on the book signing event. Photo via Inquirer.NET.
That, I think, we can consider lucky. If not for these guys, securing financial backing for a project like this would have been difficult, isn't it?
Yeah. You know I have to say 'sir Nando and 'sir E.A. Rocha are very cool and very supportive producers. I think they have a good sense of what makes for a good film and a good story; both of them also write. They know when a story is good, and if the story is good, they're game. So there wasn't really any difficulty selling to these two the idea of the film. I mean, it's about a serial killer in Payatas with two Jesuit priests, which is just so cool. I mean, you love the book, right?
With a passion, Ria. So let's talk about it now.
Let's do it.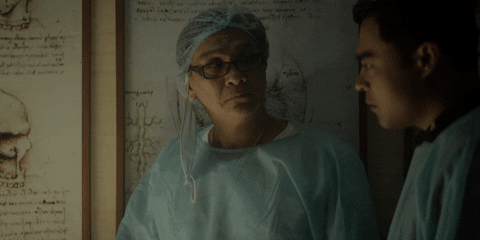 One of the more interesting things about the novel is the way it presents our police force in the Philippines. In the book, the NBI is on the hunt for a killer of young boys, little suspecting that this might be the work of a serial killer. And that's largely due to the scarcity of the force's resources, the notion that "there are no serial killers in the Philippines" and the overall dent on the entire police system. In short, our police force is ineffective. The book was first published in 2000, do you think this inconvenience is still relevant today?
Of course it's still relevant. We still have the same problems as a country. Some people might say it actually has gotten worse, some say it has gotten better–I don't know. We are not trying to make any political statement. I'm not a very political person.
But I think, the film is (or should be) an awakening–you know, so that people are aware. If you're a mother who is poor, and your child goes missing and is presumed dead, what confidence do you have that the institutions will help? And even if you're rich, you still have to go out of your way to actually get something done. To bribe? To pull strings? The inefficiency and the incompetence that we, as a society, have to deal with–it makes us not empowered as citizens. With Smaller and Smaller Circles, we just want it to be an accurate reflection of what's going on.
An interesting flourish in Batacan's novel is the looming presence of the serial killer, via bits of monologue which open every chapter. This triggers us to somehow grow empathetic of the serial killer, sadistic and macabre as he is. How will this translate into your film?
Smaller and Smaller Circles is a literary work, and the way Batacan had structured her novel is already perfect. We obviously couldn't completely translate it to film, particularly the serial killer p.o.v.'s at the beginning of each chapter, because those will give away the killer very quickly. And crime-thrillers is about suspending the reveal. This is a cinematic treatment, so, while there are a lot of things from the book which we've had to tweak to make it cinematic, the heart of the story is really still very much the book.
Let's take a step back. I want to ask you about screenwriting. As a screenwriter, how does one let go of his/her work. I mean, what helps?
With this one, particularly, I trust Raya. Implicitly. I'll just give it up to him.
D.O.P. J.A. Taneda and director Raya Martin.
But if you're writing a screenplay, there's a time that it's all yours. And then, there's a time that you just have to let it go. That's why you can't be attached if you're a writer. It helps if you're working with amazing people, which, on this project I'm lucky to have Moira and Raya.
F.H. Batcan's novel Smaller and Smaller Circles is available in bookstores nationwide, published under Soho Press.
The film, similar to the book, looks to be more of a rarity than the standard. Apart from Batacan's novel, I haven't read any contemporary crime novel from the Philippines.
Yeah. I haven't read anything from this genre that has a truly Filipino context, except for Smaller and Smaller Circles. Jessica Hagedorn did a noir anthology called Manila Noir back in 2013, but that one isn't necessarily crime. Usually the two are associated, but they're different.
In connection with that, this type of stories doesn't get made too often in the Philippines. Do you think we are approaching a time where film outfits are becoming bolder with their choices?
Logically it will come from independent producers. If you're an independent producer, you have a little more freedom to do what you want to do. As opposed to the mainstream studios, which, at the end of the day, have to make money. And that's because they're usually part of a bigger machine, right?
But I think with the success of films like Heneral Luna, maybe the "mainstream" will have a little more confidence in producing films that are outside of the rom-com, horror,  and melodrama, or maybe even the combination of the three.
---